IBEW 569 Union Meeting
September 8, 2021 @ 5:30 pm
PDT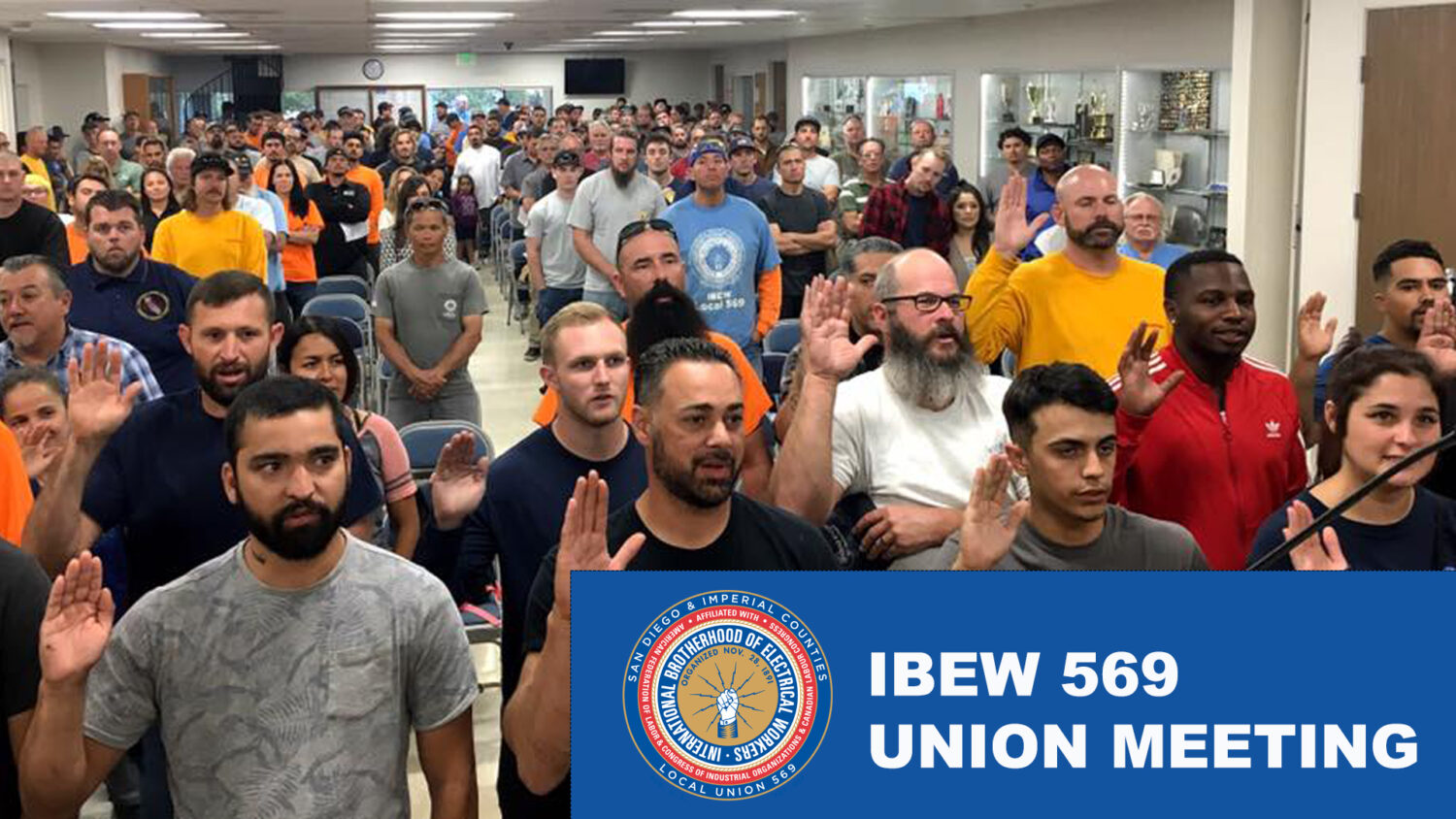 Attention IBEW 569 Members:
Come to our IBEW 569 Union Meeting to stay informed and get involved! We'll swear-in new members and welcome them to the Union; receive reports on Union actions and activities; conduct Union business; discuss concerns.
IBEW 569 will now be hosting our Union Meetings simultaneously – in person in San Diego and in Imperial Valley over closed circuit television (CCTV), and invites our Imperial Valley members to get empowered by participating in our union meetings!
Due to COVID and the rise of the Delta variant, all meeting participants must wear a mask to protect our brothers and sisters attending the meeting. We will be following CDC and County guidelines for updates.
This monthly meeting creates an opportunity for both new and experienced membership to come together and get engaged with our local union.
WHAT: IBEW 569 Union Meeting
WHEN: Wednesday, September 8th, 5:30pm
WHERE: IBEW 569 Union Halls (4545 Viewridge Avenue, San Diego, CA 92123 AND 2420 Imperial Business Park Drive, Imperial, CA 92251)
RSVP on Facebook: https://fb.me/e/2rOxL1fnD
---
August 17, 2021
To all members of IBEW Local 569
There was a first reading of a proposed bylaw change by Brother Doug Benkert at the February 10th General Membership meeting.
There will be a second reading of the proposed bylaw change at the September 8th General Membership meeting followed by majority secret ballot vote.
Please plan to attend.
In Article X, Section 7, subsection (a), line item Journeyman Soundtech: I move to increase the Working Dues amount to "plus 3% of gross earnings" from "plus 2% of gross earnings"; And, add a new entry to Article X, Section 7, subsection (a); Beginning June 7, 2021, members employed as Journeyman Soundtech shall pay 3% of their gross wages as Working Dues. Members employed as Apprentice Soundtech shall pay 2% if their gross wages as Working Dues. The 1% increase to Journeyman Soundtech and Apprentice Soundtech working dues will be collected and used to fund a Sound Unit Market Recovery Fund and will be accounted for separately from working dues for the General Fund.
Sincerely,
Jeremy Abrams
Business Manager
IBEW 569
Related Events